Your hotel for families in the Ahrntal Valley
Discounts for children in Posthotel in Lutago
As a particularly popular hotel for families in the Ahrntal Valley, we inspire young and old alike with our welcoming nature and with our children's discounts, so you look forward to even more fun during your days together in one of the most idyllic valleys in South Tyrol. We would be delighted to put together a bespoke holiday offer for you.
0 to 1 year free
2 to 3 years 80% discount
4 to 8 years 50% discount
9 to 14 years 30% discount
The children's prices are valid with a cot, and by two full-paying adults in the same room.</p
Your hotel for families in the Ahrntal Valley
Happy Family Weeks in the Posthotel in Lutago
Book our special Happy Family weeks and experience the most exciting time in our cosy 3-star Posthotel.
One child under the age of 14 in the room of the parents (extra bed) stays for free
from 28.11.21 to 26.12.21
from 09.01.22 to 30.01.22
from 13.03.22 to 10.04.22
from 24.04.22 to 26.06.22
from 28.08.22 to 06.11.22
Valid for a stay from 5 nights.
Your hotel for families in the Ahrntal Valley
A stay with children in the Posthotel in Lutago
Contemporary, comfortable and stylishly designed, our family rooms are your personal retreat, where you get to experience precious time together with space to play, cuddle up, sleep in and have fun.
Our more bed rooms and family rooms are ideal for families with children
Your hotel for families in the Ahrntal Valley
Flourishing imaginative realms & adventure mountains
Every day a new family highlight awaits in the adventure realms and adventure mountains in the Ahrntal Valley. Explore a realm where children flourish and where fairy-tales are alive and well.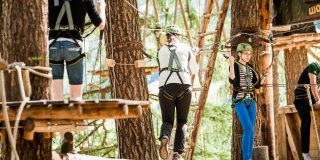 Step by step discovering the best adventure course in Italy and daring to enjoy an experience high between the tree-tops.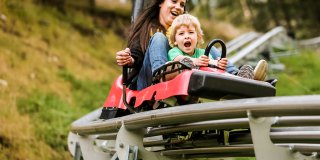 At speeds of up to 40 kilometres per hour you get to whoosh a good 1800 metres down into the valley. Enjoy this dashing ride with all the family.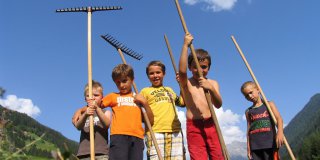 A variety-packed programme of events for little explorers and a huge adventure awaits! Here children aged between 6 and 12 years old get to find new friends and have lots of fun in the natural surroundings.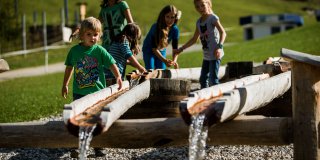 Rivulets, the Klausi Pond, the Bear Slide, the high ropes course and Dinopark provide fun and variety in the midst of a dreamy mountain backdrop.
Your hotel for families in the Ahrntal Valley
Snow magic & mysterious winter magic
Children's eyes sparkle like the white glistening landscape round about. Building snowmen, charging down the ski slopes, speeding into the valley on the Alpine Coaster and much more lies in store!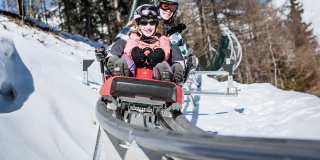 Speed into the valley at speeds of up to 40 kilometres per hour and feel adrenaline, joy, excitement and lively winter fun.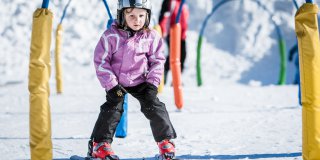 A fairy-tale place for little racers and young ski stars, with new discoveries always in store.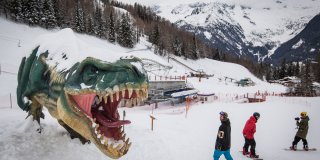 The dinosaurs are on the loose – and with them is a whole lot of fun in the snow. Cool boarders and courageous kids can look forward to meeting T-Rex!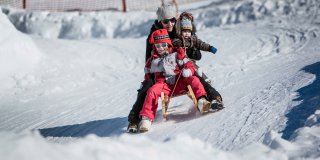 25 % gradient. 100 % fun. In the tubing, snow bob and snow disc runs you get to speed across the snow and ice.